Posted Wed, Oct 4, 2023 2:23 PM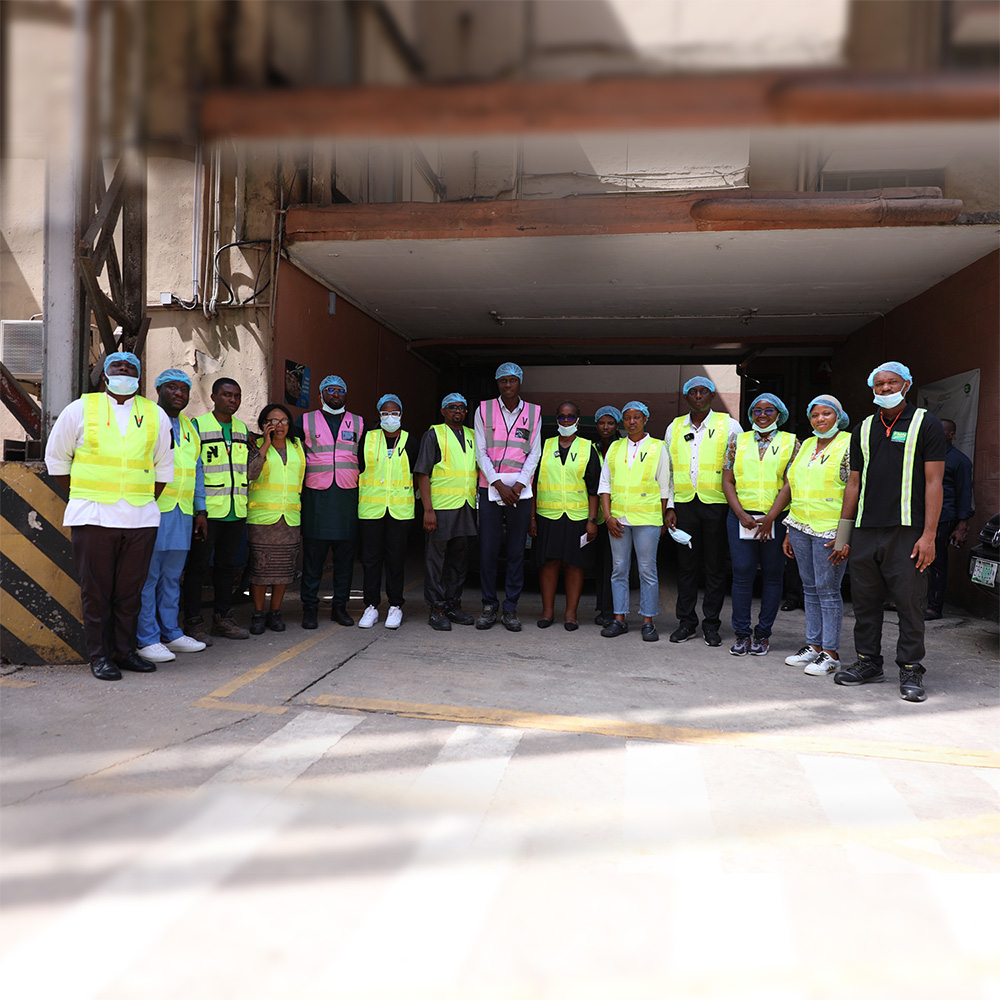 Due to the high economic burden of Vitamins and Mineral Deficiencies (MND) and the relatively low cost of adding vitamins and minerals at the industrial level to food products, economists have concluded that food fortification and workforce nutrition are among the most cost-effective investments in national economic development.
It is on this premise that the Nigerian Economic Summit Group (NESG), in collaboration with eHealth Africa and the Civil Society Legislative Advocacy Centre (CISLAC), On Thursday, 28th of September, 2023, went on an advocacy visit to Flour Mills Nigeria (FMN) Plc.
Mr Dianabasi Akpainyang, Thematic Lead, Input and Distribution Thematic Group, Agriculture and Food Security Policy Commission of the NESG, in his briefing, stated that the importance of workforce nutrition in Nigeria could not be overstated, noting that while working-class individuals spend one-third of the day within the work environment (an average of 8 hours), a good percentage of such workers do not eat healthy within this time for reasons such as availability and affordability and that the advocacy visit aims to raise awareness of the importance of micronutrient deficiency and to advise on effective strategies for addressing it.
Mr Akpainyang urged the company to promote workforce nutrition among staff members, adding that a well-nourished workforce was essential for economic growth and development. He said that workforce nutrition could reduce absenteeism, improve workers' productivity, reduce healthcare costs, and increase employee morale while also encouraging the company to ensure its workers eat food fortified with essential vitamins and minerals.
Furthermore, Mr Dianabasi Akpaninyang stated that food fortification is a proven way to improve nutrition and health as it is a simple, cost-effective intervention that can be used to add essential nutrients to foods commonly consumed by large populations. He urged the government to partner with the private sector to promote food fortification in Nigeria. He said, "The government can do this by developing and implementing policies that support food fortification, such as mandatory fortification standards and financial incentives for food producers. The private sector can do this by investing in food fortification equipment and by producing and marketing fortified foods." He urged the company to ensure their workers eat fortified meals, noting that consuming food fortified with all nutrients would improve their productivity and prevent micronutrient deficiencies.
On his part, the Senior Programme Officer, CISLAC, Mr Muhammed Murtala, said that establishing a laboratory for testing fortification in Nigeria would help to ensure that Nigerians have access to safe and nutritious food. According to him, fortification is the process of adding vitamins and minerals to food, and it is a public health strategy used to improve a population's nutritional status and prevent micronutrient deficiencies. He said that the need for a testing laboratory was a significant obstacle to the effective implementation of the mandatory food fortification programme in Nigeria.
Earlier, Mrs Jessica Nworgu, Manager, Quality Control, FMN, urged the government to equip its laboratory and ensure the workers had the technical know-how to carry out sample testing. "I wish that the regulatory bodies like the Standards Organisation of Nigeria (SON) have good laboratories. I feel that part of their problems is the technical know-how, and if they have the technical know-how and are trained with the right equipment to carry out these tests, it will go a long way. I say this because when we send our samples to them, they are able to analyse only two or three of the micronutrients. If we have good laboratories, private laboratories or even advocacy laboratories that can be set for the manufacturing company, It will be wonderful," she said.
She also complained about the cost of production for the Vitamin A premix, a fortification micronutrient, the recommended tariff of 20 per cent against five per cent, among others.
The highlight of the visit was a tour of the company's canteen to check if workers were fed with fortified food, a visit to the store where fortificants were kept and how they were mixed.