Posted Wed, Nov 8, 2023 1:37 PM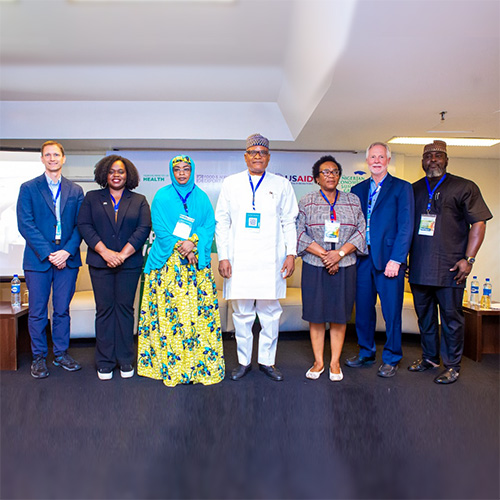 L-R: Christopher Bielecki, Counselor for Agricultural Affairs, US Department of Agriculture (USDA); Kelly Scavella, Programme Manager, Foreign Agricultural Service, USDA; Sugra Mahmood, Director, Nutrition and Food Safety, Ministry of Agriculture and Food Safety; Dr. Emmanuel Odu, representing the Coordinating Minister of Health and Social Welfare; Mrs Chito Nelson, Head, Food and Nutrition Division, Federal Ministry of Finance, Budget and Economic Planning; Kent Sisson, Executive Director, Food and Agriculture Export Alliance (FAEA) and Dr Tayo Aduloju, CEO-Designate, Nigerian Economic Summit Group (NESG) at the 'Food and Feed Safety Expertise Coordination Workshop' held in Abuja…Tuesday
The United States Department of Agriculture (USDA), in collaboration with the Nigerian Economic Summit Group (NESG) and the Federal Ministry of Health and Social Welfare, on Tuesday in Abuja, kicked off the third workshop on "Food and Feed Expertise Coordination" for high-level officials and technical experts from the Nigerian food industry and regulatory bodies to progress on the action plan drafted as the outcome of a previous workshop held in December 2022.
Jointly organised by the NESG, Federal Ministry of Health and Social Welfare, the Food and Agriculture Export Alliance (FAEA), the USDA, and the University of Missouri (MU) as part of the Africa Food Safety Initiative, the three-day food safety expertise workshop builds on last year's Food and Feed Safety Transformation Dialogue - where stakeholders highlighted the importance of legislation for food safety and quality, given its importance to the health and wellbeing of Nigerians.
At the workshop, the Federal Ministry of Health and Social Welfare presented the proposed roadmap for the continuing modernisation of food safety and quality regulations in Nigeria. Experts from government, industry and academia discussed current rules and practices and formed Technical Working Groups (TWGs) to harness expertise in the fields of risk-based regulations and enforcement, traceability, and continuous learning needs. Also, the United States shared valuable insights from its own implementation of the US Food Safety Modernisation Act, applicable to Nigeria's food quality and safety agenda.
Highlighting the significance of the workshop, NESG CEO-Designate Dr Tayo Aduloju said: "Nigeria's commitment to upholding the highest food safety standards is paramount to our nation's well-being and progress. By collaborating and pooling our collective expertise, we can strengthen regulatory frameworks and enhance the overall quality of food and feed in our country. Nigeria has over 70 million hectares of agricultural land, a massive potential for economic growth and development. However, for the sector to thrive, we must have effective regulatory, institutional and policy frameworks. Frameworks that address the gaps in food and feed safety systems will not only improve the well-being of citizens but also impact Nigeria's position in international trade. To benefit effectively from the AFCTA, reforming food and feed safety systems in Nigeria is inevitable."
Dr. David Atuwo, (representing Dr Tunji Alausa, Minister of State for Health and Social Welfare), emphasised that citizens deserve access to nutritious, safe food that promotes wellbeing. He said: "This event comes as the Ministry is about to validate the revised National Policy on Food Safety & Quality and its Implementation Plan, 2023 as well as the launching of the first National Integrated Guidelines for Foodborne Disease Surveillance and Response. All these steps are deliberate efforts put in place by the Ministry to ensure we attain the required National Health Security Status in Nigeria."
According to Kent Sission, President of FAEA, "The Food and Agriculture Export Alliance (FAEA) is very honored to participate in and co-sponsor the "Food and Feed Safety Expertise Coordination Workshop. This is an important next step for our organisation in collaborating with Nigerian Government agencies responsible for ensuring the safe production and consumption food and animal feed. This opportunity represents our second food and feed safety activity in Nigeria working side by side with the Nigerian Government, USDA, USAID, the University of Missouri and the Nigerian Economic Summit Group. We look forward to many more opportunities to work in this area with these partners over the next few years."