Posted Sat, Aug 27, 2022 6:57 PM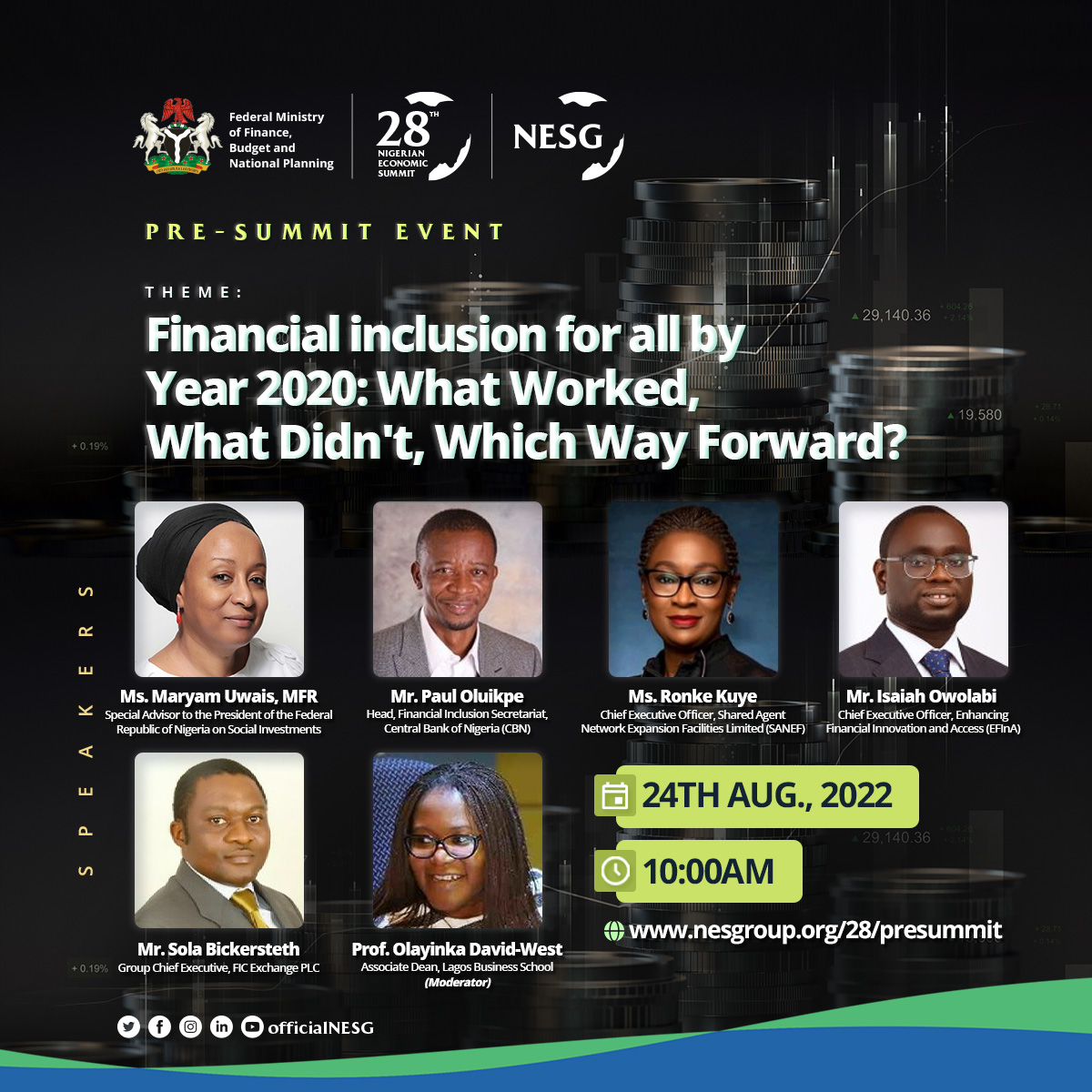 On Wednesday, 24th August 2022, the Nigerian Economic Summit Group (NESG) and the Federal Ministry of Finance, Budget and National Planning held a pre- 28th Nigerian Economic Summit (#NES28) event with the theme "Financial Inclusion for all by 2020: What worked, what didn't which way forward?"
In her welcome remarks, the head of corporate services of the NESG, Ms Ogechi Obiorah, who represented the CEO of the NESG, Mr Laoye Jaiyeola, stated that the CBN introduced the financial inclusion strategy in 2012, and various stakeholders have introduced many initiatives towards ensuring that Nigeria achieves financial inclusion for her populace. "Between 2011 to 2021, Nigeria increased her financially included population by 65 percent but failed to meet her 80 %, but this progress is commendable. The hardest hit group is the lower segment of the Nigerian society, vulnerable to economic shocks. 4 in 10 Nigerians live below the poverty line, and this event will help us deliberate on financial inclusion bottlenecks and lessons learnt in the past to enhance the financial inclusion agenda by the year 2030," she stated.
In her keynote address, the special adviser to the president of the federal republic of Nigeria on social investments, Mrs Maryam Uwais, said that it is imperative to note that Nigeria can get it right. She noted that after the Maya Declaration in 2011 at the Global Policy Forum (GPF) in Mexico, the Nigerian government launched the National Financial Inclusion Strategy in 2012 with the goal of reducing the financially excluded to 20% by 2020 and that the strategy was to reflect on a long-term commitment and plan more strategically towards expanding financial services access and use to underserved populations. Furthermore, she revealed that various policies have ranged from various institutional engagements such as the establishment of community and micro-finance banks, deliberate partnerships with the private sector, and the licensing of providers, to specific policies and programmes, all designed to facilitate the access of the financially excluded to formal financial services.
Furthermore, Ms Uwais noted that financial exclusion often results in poverty and further deepens inequality and that the consequences of having large numbers of Nigerian citizens without access to essential financial products and services expose them to even more precarious economic conditions and the nation to poor human capital indices. She reiterated that as Africa's largest economy, Nigeria has the potential to drive consumers toward financial inclusion, yet economic instability, among other factors, has made progress uncertain. "In a 2020 Report by Enhancing Financial Innovation and Access (EFInA), 64% of Nigerian adults were financially included by the end of 2020. This means that 36% of Nigerian adults, or 38 million adults remain completely excluded. About six in ten Nigerians (60%) live below the poverty line, with research showing that being poor, rural, and less educated are all barriers to inclusion. Fortunately, the banking sector has led the way to financial inclusion, with nearly three in ten adults (29%) having bank accounts in the recent past. Three in 100 adults (3%) have mobile money accounts, and the same number (3%) have non-bank financial accounts. The Global Index measures, however, indicate that 45% of Nigerians were holders of accounts by 2021, an 11% rise from 2014. With the economic adversities that have bedevilled Nigeria since then (and indeed the international market generally), particularly related to the covid-19 pandemic, the slump in oil prices and the unimpeded population growth largely in the poorer segments of our society), unemployment and poverty can only have exacerbated by now," she stated.
Ms Uwais reiterated the importance of developing and offering diverse products to suit different sections of the Nigerian society and supporting the active application of technology in this space, especially those backed by financial literacy, noting that CBN must continue to create policies that incentivize, encourage and integrate these marginalized numbers on the financial landscape and the formal economy, which initiatives must include the regulation of efforts that achieve and surpass their targets.
Head, financial inclusion secretariat of the Central Bank of Nigeria (CBN), Dr Paul Oluikpe, said that in 2012, the CBN formulated and began the implementation of the financial framework, which included the cashless policy. He noted that the gender gap in financial inclusion in Nigeria is widening and that the CBN is ramping up policies in response to prevailing conditions. Furthermore, Dr Oluikpe noted that the CBN has revised guidelines related to bank charges to protect the vulnerable, so they are not overcharged. "We also have measures such as microinsurance guidelines, the Bank Verification Number (BVN), which cleaned up the banking system and helped protect customers and financial institutions. However, challenges remain despite these efforts, including the fact that mobile infrastructure is at an infantile stage in some remote rural areas and the problem of elusive digital identification for a high percentage of Nigerian youths," Dr Oluikpe stated.
Chief Executive Officer, Shared Agents Network Expansion Facilities Limited (SANEF), Mrs Ronke Kuye, said that SANEF achieved 561,000 agents by the end of 2020 but now has about 1.3 million agents across Nigeria in 2022, with a ratio of 476 agents per 100,000 adult population. She noted that transactions at the agent locations involve products such as cash transfers and bill payments. However, more needs to be done in micropayments and micro-insurance despite the fact that 1.6 billion transactions were carried out in 2021, and about 5.8 million accounts have so far been opened in 2022.
During the panel discussion, the CEO of Enhancing Financial Innovation and Access, Mr Isaiah Owolabi, revealed that in terms of all financial inclusion indicators, Nigeria has made considerable progress but more still needs to be done to overcome the barriers to financial inclusion and leverage data to reinforce policy action across different sectors. More so, he reiterated the need to focus on women and young people in financial inclusion policies to break various barriers, including attitude and perception, interests and deposits and institutional exclusion, including operational or regulatory factors.
The Group chief executive, FIC Exchange Plc, Mr Sola Bickersteth, said that there is a need to have appropriately trained agents, and there is a plan in the works for an e-learning platform. He noted that to deepen access to financial services, including mortgage and insurance, there is a need to enhance capacity development and expand digital money services. expanded