All Policy Commissions
About This Policy Commission
The Agriculture and Food Security Policy Commission engages in advocacy to follow through agriculture specific issues with a view to ensuring the formulation, adoption, and implementation of appropriate policies on agro-industrial development in the agro industrial space and food and nutrition security as a whole.
The overarching objective of the Agriculture & Food Security Policy Commission is to facilitate the adoption of various NES recommendations with a view to fast-tracking growth and development of the economy.
It is therefore against this background that NESG is working with select players in the Agricultural sector with the view to contribute meaningfully to the body of actionable solutions which the public and private sector is encouraged to adopt towards weathering the current economic and environmental downturns. In particular, the commission is poised to enhance its operational processes to engage policy institutions and government agencies to follow-through the implementation of policy recommendations from previous annual summits and continue on year-on-year monitoring of such recommendations and other economic activities of the government.
Call for papers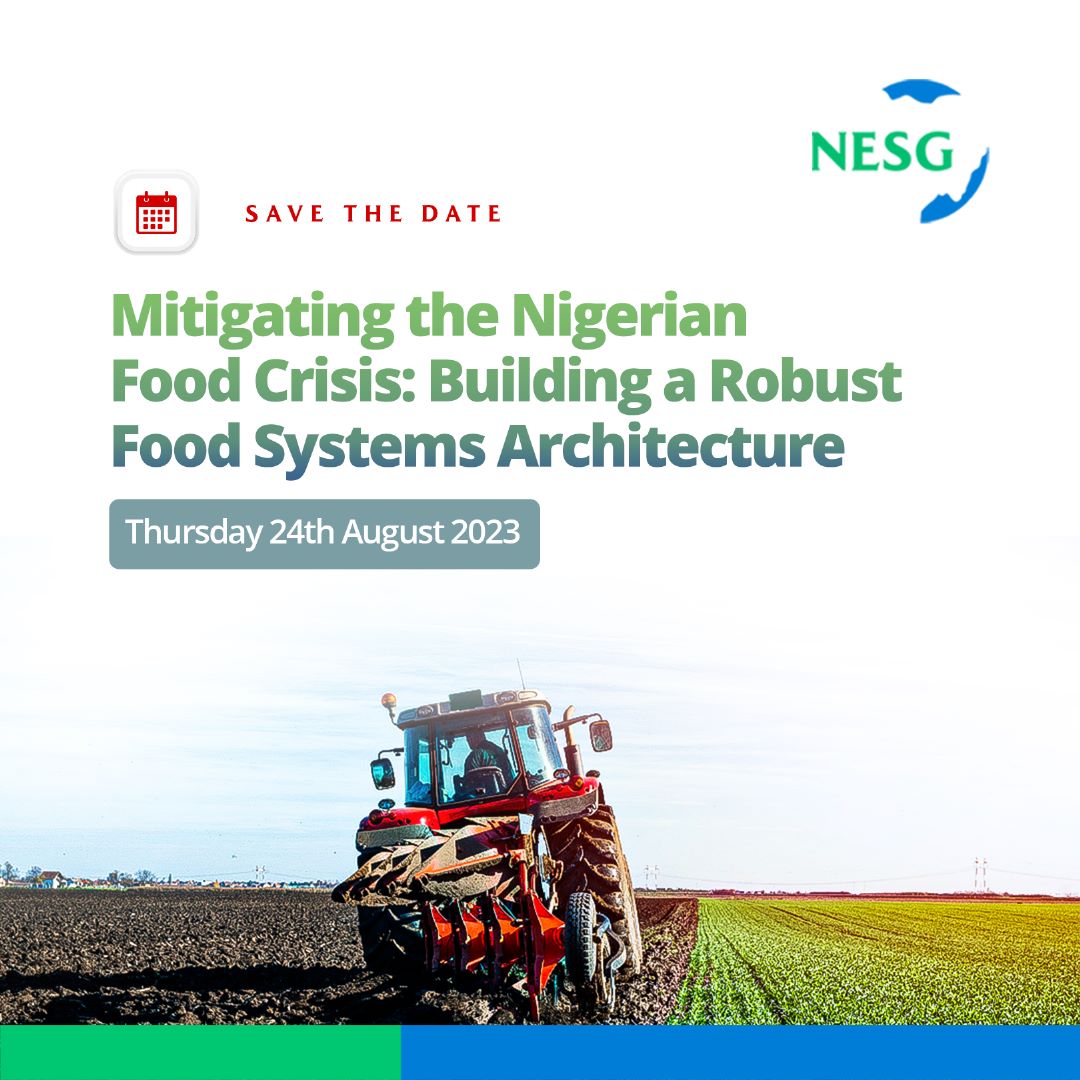 The Agriculture and Food Security Policy Commission of the Nigerian Economic Summit Group is delighted to announce a Call for Papers on the critical topic of "Mitigating the Nigerian Food Crisis: Building a Robust Food Architecture." This initiative aims to gather innovative and practical solutions from experts, researchers, policymakers, and stakeholders to address the pressing challenges that Nigeria faces in ensuring food security and sustainable agricultural development. The call seeks to encourage contributions that analyze the root causes of the crisis and propose viable strategies to enhance the resilience of Nigeria's food systems
Download Call for papers concept note
Thematic Groups
Post-Harvest Management
Objective: Post-Harvest Loss is a serious challenge of food wastage and revenue loss for farmers and the general populace as it breeds food insecurity. The Post-Harvest Management Thematic Group is poised with the role of addressing gaps in production and losses pre-harvest and post-harvest in order to promote and sustain practices and policies that will ensure Food Security in Nigeria.
Market Access
Objective: The delay in leveraging technology in warehouse management encourages unethical practices by brokers and operators, thereby breeding low market integrity and the unwillingness of stakeholders to participate. Lack of infrastructure and logistics elements to support an efficient commodities market is a disincentive to possible growth in the Commodities Exchange ecosystem. Challenges with transportation, the need for modern and well-managed storage facilities, and deficiencies in manufacturing are key problems which undermine fixing the commodity value chain to boost agriculture in Nigeria. Overall, the slow pace of the government to create the needed enabling environment is a political challenge to the growth of the commodity exchange culture in Nigeria. Market Access Thematic Group is responsible to provide solutions critical to the successful emergence of a functional commodities exchange to expand agricultural markets in Nigeria.
Input and Distribution
Objective: Access to quality inputs remains a challenge and risk to increase in productivity and output to smallholder farmers and commercial farmers in Nigeria. Poor quality agrochemicals and fertilizers are continuously dumped on illiterate farms from several intervention programs leaving continuous poor yield and low return on investment in primary production. Inputs & Distribution Thematic Group seeks to unlock good agronomic practices through capacity building and implementation of actionable and exceptionable models to scale the primary production of key crops with the involvement of the entire value chain players.
Sustainable Land Management
Objective: Sustainable Land Management preceded at all times by a professionally designed and prepared unique Farm Land Use Planning (FLUP) – the blueprint for the sustainable development of individual parcels of land – is either unknown, misunderstood or not believed to be one of the most critical components of building a successful small-holder and/or commercial agriculture sector in any country, leading to unstainable losses of foundational natural resources, viz. ground water and topsoil. Land acquisition and the Land tenure system (laws) and other difficulties, which are associated with getting more lands, have also been constraining the expansion of the existing plantations. Sustainable Land Management Thematic Group plans to create as much awareness of this scientific solution to natural resources losses, low-productivity, climate change, and address the issue of Land tenure with as many decision-makers as possible.
Mechanization
Objective: Low adoption of technology in agriculture has limited farmers in Nigeria to the subsistence and crude way of farming. The Mechanization Thematic Group is poised with the role of mapping out strategies to fast track the process of developing a National Mechanization Policy which will lead to the National Mechanization Act being passed into law for the purpose of embracing climate-smart and mechanized system of production/ food production.
Agricultural Finance
Objective: Lack of cheap agricultural financing, lack of access to commercial agricultural finance and incentives to promote low-cost local production of key farm inputs among many other challenges are issues with Agricultural financing in the Agricultural sector in Nigeria. Agricultural Finance Thematic Group plays the role of developing and strengthening policies that encourage tapping into capital markets for long-term funding to securitize agricultural risks and to further assist small & medium scale farmers to access credits/loans.
Milestones & Current Intiatives
The Rapid Baseline Assessment of Agricultural Policies and Initiatives impacting Market-led Food Systems is a pivotal activity from the Agriculture Food Security nexus of the NESG high-level forum on SDGs, launched during the 26th annual Summit and funded by the Bill and Melinda Gates Foundation. The project is based on a multi-year commitment to sustain and elevate dialogue partnership mechanisms on SDGs. The study examined all the agricultural policies that impact food system improvements and smallholder farmer profitability. This aimed to proffer policy recommendations and address the broad implementation of legislation and inclusion into existing policy frameworks at the national and sub-national levels.
The Food Safety and Quality Bill engagement was enabled by a grant from the Alliance for a Green Revolution in Africa (AGRA) to partner with the Federal Ministry of Health, which is the government's ministry with the mandate for food safety and quality management. An inception meeting was held with the Ministry of Health, Food and Safety Unit Director and a preliminary workshop was held in February. The team got the polls of various stakeholders and organisations like NASDAQ, CERN etc., many of which are in the food safety and quality space in the discussions and feedback sessions of the meeting. The team also embarked on advocacy visits. The advocacy visits ended with a visit to the Food and Rural Development committees of the National Assembly.
Join Us
Would you love to work with the Agriculture & Food Security policy commission of the Nigerian Economic Summit Group in transforming Nigeria though research based advocacy? Do you have the exposure and competencies? Click here