Posted Tue, Sep 26, 2023 1:21 PM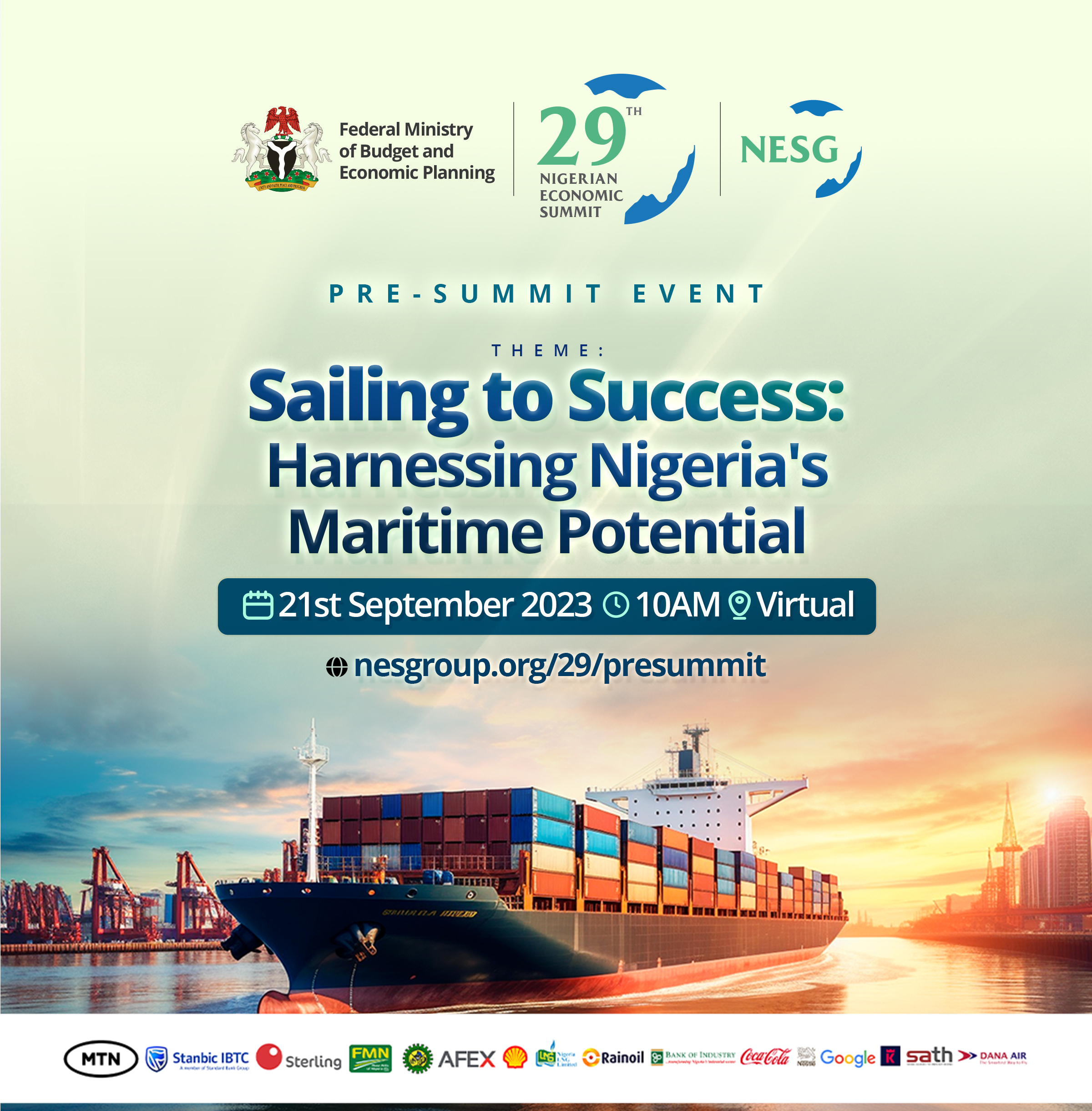 Nigeria's maritime sector has the potential to drive economic growth and transformation, but it faces several challenges. Despite its vast coastline, Nigeria's maritime industry needs to be more utilized and faced issues such as piracy, illegal fishing, inadequate infrastructure, and regulatory bottlenecks. These challenges have hindered the full realization of the sector's potential. It is on this premise that the Nigerian Economic Summit Group (NESG) on Thursday, September 21st, 2023, held a pre-29th Nigerian Economic Summit (Nes29) webinar with the theme "Sailing to Success: Harnessing Nigeria's Maritime Potential."
In his welcome remarks, a Board member of the NESG, Mr. Nnanna Ude, said that maritime activities are critical in facilitating global trade and economic growth. He stated that Nigeria, as the most populous country in Africa and a key player in the region, holds a unique position in West Africa's maritime landscape, noting that the country boasts a coastline of approximately 853 kilometres along the Gulf of Guinea which provides ample opportunities for maritime trade and economic development.
Furthermore, Mr Ude reiterated that a thriving maritime sector can contribute to economic diversification and inclusion while emphasizing that one of the industry's critical challenges is a lack of comprehensive data that hinders policymakers from fully understanding the sector and its contribution to Nigeria's GDP. He further commended the establishment of a marine and blue economy ministry, stating that it is a pivotal shift from the past, and this underscores the government's intention to have a more coordinated approach that can potentially make the sector a catalyst for Nigeria's economic transformation and development.
Princess Ronke Kosoko, Chief Operating Officer of Maritime Innovations Hub, said maritime trade in West Africa contributes significantly due to its strategic location for moving goods to and from Europe, Asia and the Americas. Nigeria has an 853 km coastline, providing ample maritime trade and development opportunities. Despite its vast coastal line, the industry needs to be more utilized; illegal fishing, inadequate infrastructure and regulatory bottlenecks can contribute to economic diversification and that Nigeria can leverage the vast opportunities and chart the course towards economic sustainability.
In his keynote address, Senate Committee Chairman on Marine Transport, Senator Wasiu Eshilokun Sanni, said that the committee is focused on identifying the areas of the maritime sector that can help Nigeria achieve its goals of economic diversification, noting that the committee will also employ modalities by embarking on actions that will attract private investment to inland waterways, even as he urged all stakeholders to collaborate to ensure the growth and development of the sector.
During the panel session on "Deconstructing the Financing Conundrun; Innovating out of Long-Term Financial Constraints in the Maritime and Shipping Sector", the managing Director of Nigerian Inland Waterways Authority (NIWA) Dr George Moghalu represented by the Area Manager Lagos of NIWA, Mrs Sarah Buraimoh said that a lot of evidence exists that shows that a thriving maritime sector could significantly contribute to Nigeria's economic diversification and inclusivity goals noting that a 2018, Nigerian Maritime Administration and Safety Agency (NIMASA) reported that the maritime sector contributed about 5% to the country's Gross Domestic Product (GDP) and provided employment to thousands of Nigerians. She stated that harnessing Nigeria's maritime potential aligns with the United Nations Sustainable Development Goals (SDGs), particularly Goal 9 (Industry, Innovation, and Infrastructure) and Goal 14 (Life Below Water), noting that sustainable maritime practices can foster economic growth while preserving marine ecosystems and biodiversity.
The Managing Director of Nigerian Ports Authority (NPA), Mr Mohammed Bello Koko, represented by the General Manager of Operations, Engineer Durowaiye Ayodele, said that 70 to 80 % of cargo is moved across the sea due to economic constraints. "There are six ports in Nigeria and a private port in Lekki. NPA manages every aspect of the port, including port operations and cargo operations. Lagos ports handle 60 to 70 per cent of trade vessels due to the security and infrastructural support services available around the ports including the fact that Lagos is the commercial nerve centre and most industries are located between Lagos and Ogun states,' he stated.
Speaking in the same vein, Senior Engineer, Julius Berger, Engr. Sena Daramola said that poor infrastructure is a significant problem because there is a deficit between infrastructure and the development of the ports. She reiterated the need to develop road networks, improve rail systems, and improve inland waterways to serve the ports and the maritime sector.
The 29th Nigerian Economic Summit, with the theme 'Pathways for Sustainable Economic Transformation and Inclusion', is scheduled to hold on the 23rd and 24th of October, 2023, at the Transcorp Hilton Hotel Abuja. In light of the urgency of translating economic growth into improved and sustainable living standards for all citizens, this year's summit theme hints at Nigeria's potential for sustainable development, leveraging innovative policies, robust institutions, strategic infrastructural investments, and human capital development.