Posted Mon, Sep 12, 2022 2:11 PM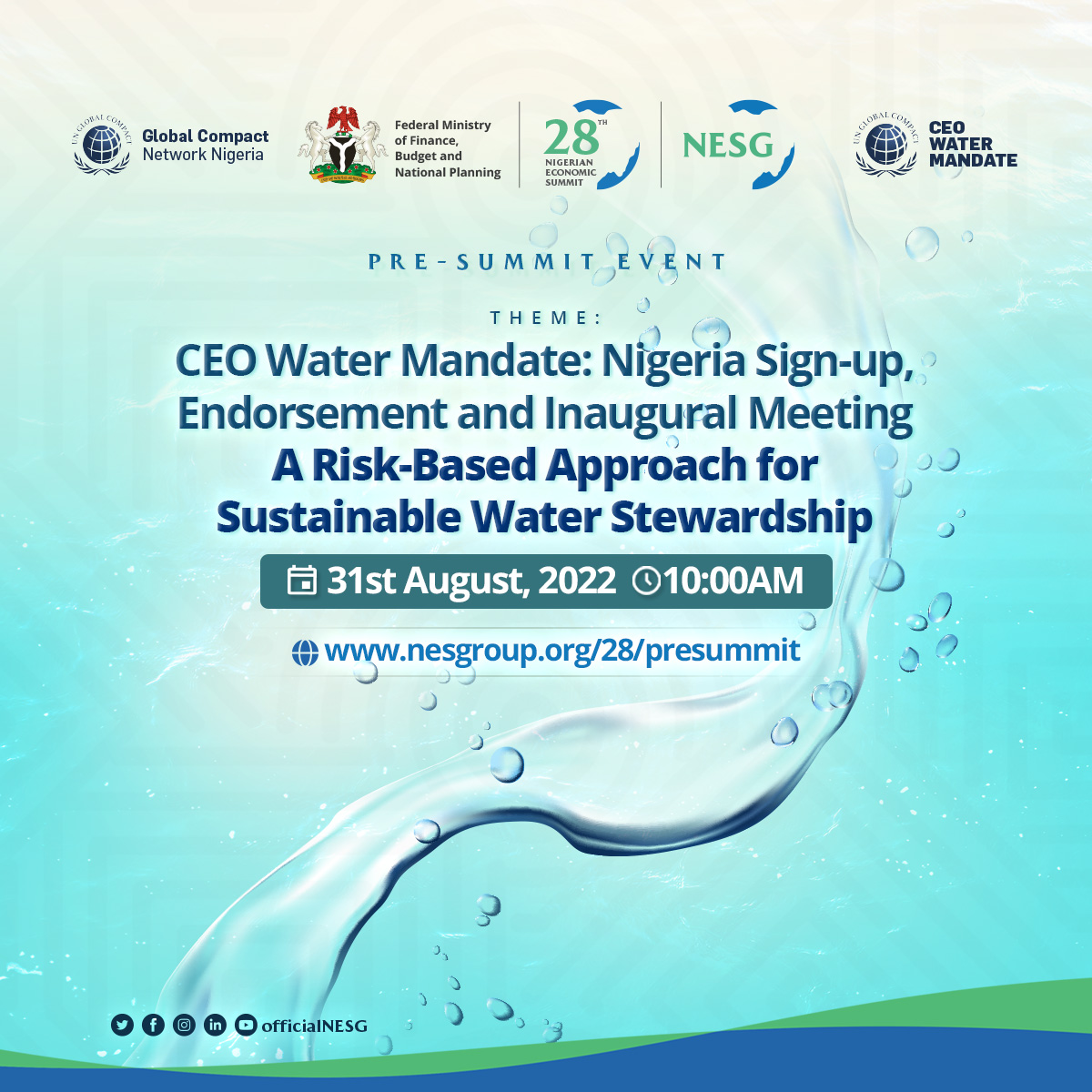 The Nigerian Economic Summit Group (NESG), in collaboration with the Global Compact Network Nigeria (UNGC) and the CEO Water Mandate, on Wednesday, 31st of August 2022, held a CEO Water Mandate: Nigeria Sign-up Endorsement and Inaugural Meeting with the theme "A risk-based Approach for Sustainable Water Stewardship."
In his welcome remarks, NESG Board Director and Managing Director/CEO, Nestle Nigeria, Mr Wassim El-Husseini, said that sustainable management of water resources is essential for unlocking economic growth. He noted that the CEO water mandate aims to help manage water risks and is designed to help companies adequately disclose the water management activities in their organisations, stating that it is also aimed at increasing public awareness around activities surrounding sustainable use of water resources.
Board Chair, UN Global Compact Network Nigeria and director corporate affairs & sustainable business, Unilever, Mrs Soromidayo George stated that Freshwater challenges worldwide are as wide-ranging as they are pervasive and that more than 2 billion people live around river basins where water demand outstrips supply. "Today in Nigeria, we are putting more pressure on freshwater resources than ever. Between a rapidly growing population and a shifting climate, water stress – and therefore water risk – is increasing. Growing water demand and water scarcity, pollution, insufficient access to safe, affordable water, sanitation and hygiene (WASH), and freshwater ecosystems are at an all-time high risk," she stated.
Furthermore, during the official commissioning of the CEO water mandate business council, Ms George stated that water is a local resource, and this results in issues of supply and imbalance for companies that primarily make use of it in production, and that water stewardship practices that solve water issues and promotes businesses must be encouraged. She noted that by signing up for the CEO water mandate, companies could reduce operational costs, boost talent recruitment and help enhance the sustainability of their environments.
While stating the terms of reference and structure of the CEO Water Mandate Nigeria Business Council, Ms Naomi Nwokolo, Executive Director, UN Global Compact Network Nigeria, revealed that there are six core areas of the CEO Water Mandate Nigeria Business Council, including direct operations, Supply chain and watershed management, collective action, public policy, community engagement and transparency; noting that the event marks the official commissioning of the CEO water mandate business council in Nigeria.
Thematic Lead, Water and Sanitation Thematic Group, NESG Infrastructure Policy Commission and Managing Consultant, Weir capacity Ltd, Mr Nyananso Gabriel Ekanem, in his presentation of the draft work plan of the CEO Water Mandate Business council 2022 – 2024, said that there is a need to appreciate the threats of climate and human action to the availability of water resources, and find ways to collaborate to share knowledge and resources that can encourage sustainability. He noted that the threats to water availability include climate action, extreme weather, biodiversity loss, too much water, droughts, heavily polluted water and sedimentation from the direct action of human activities.
Furthermore, Mr Ekanem reiterated the need for businesses to keep upgrading their facilities to keep up with the different pollutants; it is easier to influence actions that prevent pollution by reducing human activities and finding ways to adapt to climate change. "Companies and communities need to impact and influence consumption, quality of effluence and larger impact within the basin levels to encourage other businesses to adopt such practices that facilitate environmental sustainability. Some of the opportunities for collaboration include defining and engaging with government on policy regulations, facilitating documentation of water risks in Nigeria, knowledge sharing and community action," he stated.
Rotimi Odusola, Corporate Relations Director & Company Secretary, Guinness Nigeria Plc, said that water is a fundamental human right, and they have an unwavering commitment to working towards its sustainability. On her part, Temitope Oguntokun, Corporate Affairs & Legal Director, International Breweries, represented by Ms Eniola Alli Faweya, lead corporate communications Anheuser-Busch said that sustainability and water stewardship are something International Breweries works on, noting the need to improve efficiency, water hygiene and sustainability, considering that water scarcity issues are complex. In his goodwill message, the MD/CEO of Global Properties & Facilities, Dr MKO Balogun, said his organisation has signed up for the CEO water mandate, noting that the construction industry consumes a lot of water, signalling the need to understand consumption patterns to find more efficient ways for water consumption.