Posted Mon, Sep 21, 2020 5:59 AM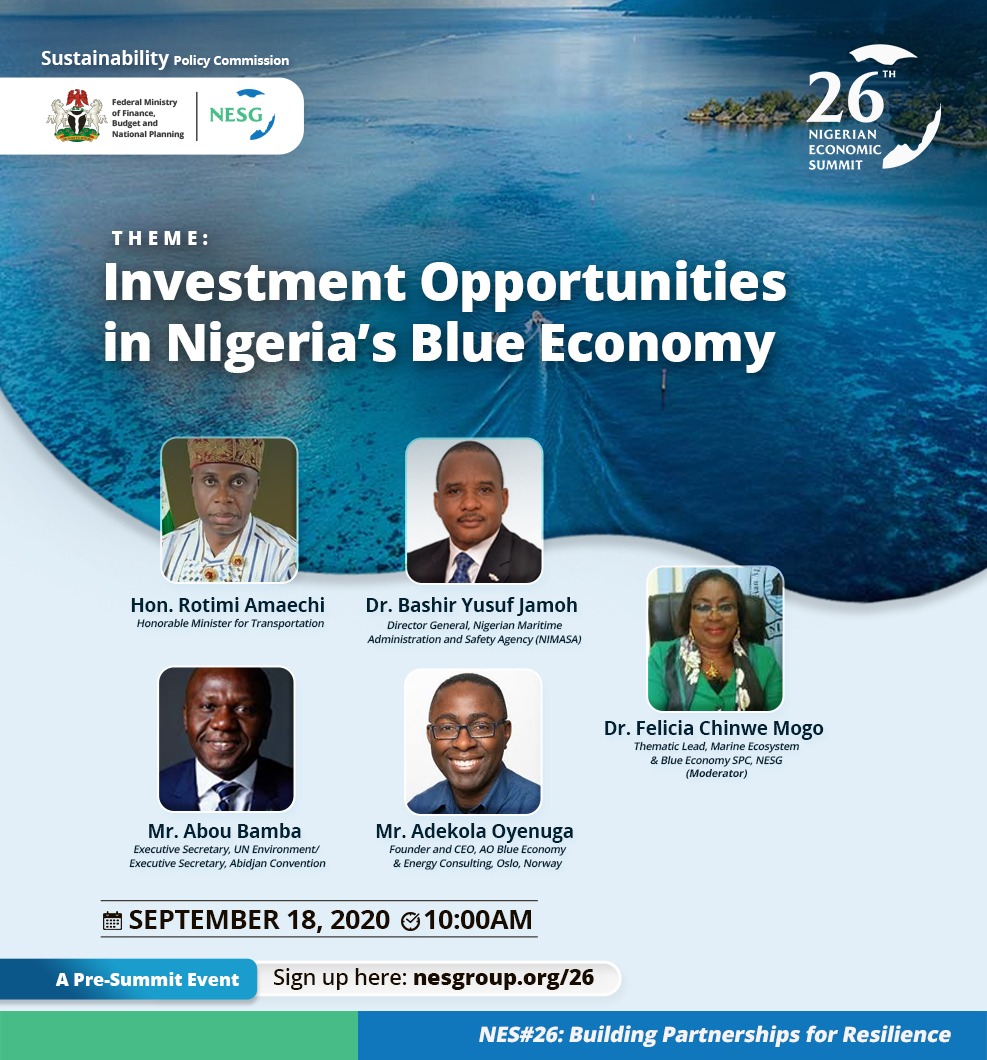 #NES26 Pre-Summit Event: Investment Opportunities in Nigeria's Blue Economy
The Nigerian Economic Summit Group (NESG) and the Federal Ministry of Finance, Budget, and National Planning in conjunction with the Federal Ministry of Environment held a Pre-#NES26 event with the theme "Investment Opportunities in Nigeria's Blue Economy" on the 18th of September 2020. The event which is among a series of pre- 26th Nigerian Economic Summit events will help to shape strategic partnerships to chart a path to recovery and build resilience for the country's economy, businesses, and households by delivering conversations that will put Nigeria in a strong position within the changing world order.
Vice-chairman of the NESG, Mr. Niyi Yusuf while welcoming participants to the event said that Nigeria is desirous to join the maritime world and gain from the Blue Economy and that the Nigerian maritime sector is capable of generating as much as 7 trillion Naira annually and 4 million jobs in the next five years if properly harnessed. "We are not on track to harness the benefits of the blue economy and this is a good time to share ideas and resources to establish a unified approach towards the development of the country's blue economy", Mr. Yusuf stated.
The Honourable minister for Transportation, RT. Hon. Rotimi Amaechi who was represented by Dr. Paul Adaliku, Director, Ministry of Transportation said that the COVID-19 pandemic has created a sense of urgency for new growth and the blue economy represents a beacon of hope to Nigeria. He revealed that US$10 billion is lost annually to illegal fishing and that dumping of toxic waste and indiscriminate use of plastics is hindering the growth of Nigeria's maritime economy and that the ministry will liaise with the Nigeria Maritime Administration and Safety Agency (NIMASA) by using the African Union's recommendations to aid the stimulus of Nigeria's blue Economy. Dr. Adaliku mentioned that the partnership with the NESG through the Public-Private Partnership model will ensure no one is left behind in galvanizing Nigeria's Blue Economy and that the government is working with NIMASA to set a framework of how all stakeholders can work together seamlessly.
The CEO of AO Blue Economy and Consulting Agency Oslo, Norway, Mr. Adekola Oyenuga while delivering his presentation said that in addition to fishing, shipping and other ocean related activities contribute about 70 percent of Norway's GDP. He revealed that Norway makes use of an integrated ocean management (IOM) approach that helps the Ocean provide multiple benefits to humans with adequate sustenance of aquatic life and environment. He mentioned that the problems of the ocean space are inter-related and should be considered as a whole; and that proper coordination at national, regional and international levels can help develop Nigeria's Blue Economy.
Furthermore, Mr. Oyenuga revealed that Seychelles developed a blue economy framework in 2018 and integrated it into their national development strategy which allows strategic oversight for the development of their maritime industry. "Each country must fashion its roadmap based on peculiar attributes and have top level political will, vibrant institutional culture and ensure adequate consultation with all relevant stakeholders to succeed", he stated.
Mr. Abou Bamba, executive secretary UN Environment/ Executive secretary Abidjan Convention said the blue economy presents a lot of opportunities for Nigeria and west Africa especially in fishing, aquaculture, shipping and port related activities and that countries can only have control of the blue economy when they control the tools for transportation of goods and services. He revealed that following the Blue Economy model, West African countries can solve the problems of traffic jams and unemployment by utilizing the lagoon system and unskilled jobs through beach and ocean line cleaning respectively.
While delivering the closing remarks, thematic lead, Marine Ecosystem and Blue Economy of the Sustainability Policy Commission of the NESG Dr. Felicia Chinwe Mogo, said that the report of the day's proceedings will be followed up to ensure the growth of Nigeria's Blue Economy.
The 26th Nigerian Economic Summit will be the highpoint of a 'Big Conversation for Action' driven by pre-Summit events. These virtual events will kickstart discussions on this year's Summit Theme and will enable us convene a wider range of stakeholders to deliberate on a broad set of thematic and sectoral issues with key outcomes.
The theme of this year's Summit is "Building Partnerships for Resilience" and it is scheduled to hold from October 26 – 27, 2020. Discussions at NES #26 will be anchored on three pillars – Collaboration, Execution and Impact – and dimensioned across five sub-themes: Mapping the Future; New Trends, New Opportunities, New Horizons; Embracing Technology and Innovation; Building Resilience and Charting the Path to Recovery.