Posted Fri, Sep 29, 2023 10:28 AM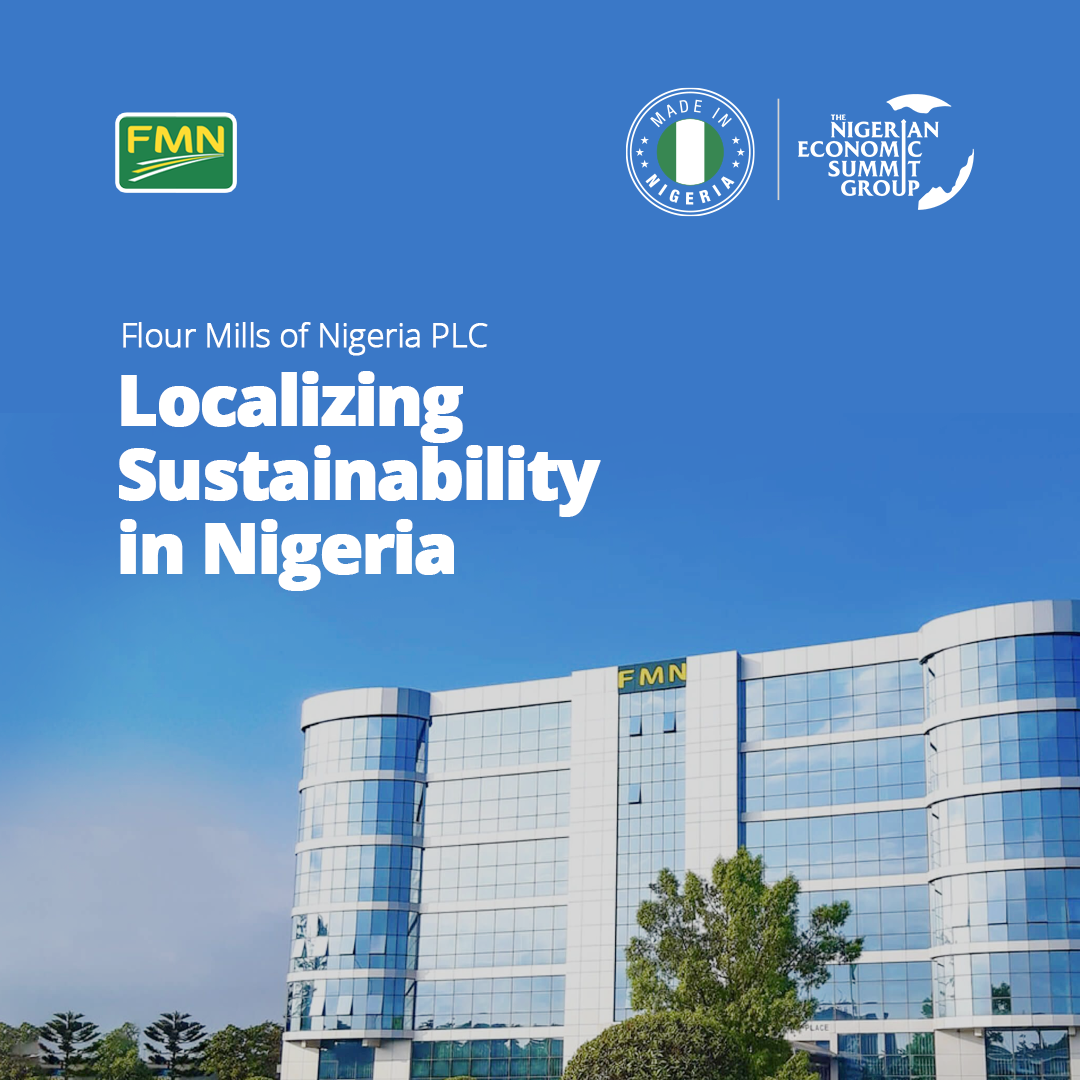 Flour Mills of Nigeria Plc (FMN), Nigeria's leading processor of quality products and a notable player within the FMCG industry is committed to sustainable development and has taken deliberate measures to enshrine local content utilization across its business operations. FMN is the industry leader with respect to localizing sustainability in Nigeria.
The FMN sustainability approach focuses on local content development through the EESG (Environmental, Economic, Social, Governance) execution framework as an enabler and sustainability leader, FMN is greatly committed to increasing local content both in inputs and products. The need to create value further back in the supply chain and reduce dependence on imported raw materials has been identified as a strategic imperative for the Group in the years ahead.
When it comes to supply chain management, FMN continues to explore options and initiatives to further embed 'responsible supply chain practices within the business operations to ensure that all purchases comply with required policies, certifications, and practices. Some of these policies and certifications are the restriction of Hazardous Substances Directive (RoHS), ISO 14001 Environmental Management System (EMS) Certification, ISO 9001 Quality Management System (QMS); utilization of energy efficient machinery across its Manufacturing facilities, some powered in part by alternative energy sources (i.e. biomass); Electronic Product Environmental Assessment Tool (EPEAT) compliance, and formal environmental-packaging policy.
Being a socially responsible company, FMN drives social value creation for its people and local communities, the focus is to profitably do business while creating long-term social impact for communities. The Group continues to strengthen the capabilities of its stakeholders, from the network of smallholder farmers, and young entrepreneurs, to its employees, students, communities, and the Nation at large. FMN remains vested in the provision of enabling structures in the areas of human capital development, education, research, provision of quality inputs, specialized training, agronomy support, aggregation, and related extension services.
From the upstream supply chain outlook, FMN's continued investment in the Food and Agro-Allied sector is predicated on the need to achieve economies of scale in food production via crop-specific value chains, increasing the productivity of and ultimately modernizing the country's agricultural sector. In the downstream sector, The Group continues to innovate the supply chain system for process efficiency so that consumers can promptly access the Brand's products and services from their places of comfort.
Furthermore, the Group established a Backward Integration Program (BIP) to create value in the supply chain and reduce dependence on imported raw materials, especially sugar and wheat. A clear demonstration of its commitment to the development of the sugar value chain in Nigeria is through Sunti Golden Sugar Estates in Niger State, which is widely regarded as the country's premier greenfield investment in the sugar industry since its inception in 2012. With a total landmass of over 21,000 hectares, including a world-class sugar refinery, the company continued to expand operations at Sunti Golden Sugar Estate including an additional $300 million in Nasarawa state and a commitment to investing another N70 billion over the next three years to develop the upland area of the Sunti Sugar Estate.
More so, in pursuit of increased local production of raw materials, the Group has established seed multiplication sites in Nassarawa and Kaduna for trials and testing for locally engineered seeds. At Kaboji Farms, FMN partners with smallholder farmers, creating an enabling environment for farming by providing land, security, and infrastructure while they produce the crops essential to operations. This model has also been implemented through FMN's Project Yalwa – designed to strengthen farmers' capacity to boost maize and soya beans production across the country. Additionally, FMN is building high-yield, high-resistant cassava seedlings at SAH Lab, a partnership with the cassava supply chain stakeholders in Ososa, the Group also acquired more land in Edo state for processing premium oil palm in partnership with Okomu Oil Palm Company Plc at AgriPalm.
Protecting the environment while conducting business remains a central component of the Group's sustainability pursuits. Flour Mills conducts its business operations in a way that maximizes the natural ecosystems while preserving it for the benefit of the present and future generations. For environmental impact management, the Group focuses on, waste prevention and management, supply chain impact management, and energy efficiency. These processes are in place to track the amount of waste produced (including packaging materials) and these initiatives are tailored to Reduce, Reuse, or Recycle them. There are also various options utilized for reducing virgin material use and hazardous materials consumption while educating consumers on more sustainable ways of disposing of packaging materials.
As localization is gradually becoming globally adopted for the purpose of regaining sustainability, more nations are likely to experience healthy, flourishing, and globally diverse communities. Localization would also involve (particularly for high-income countries) more constrained production and consumption, entailing minimization of the redistribution of resources. Thus, to ensure that Nigeria partakes in this globally viable process of local content development, corporate organizations, the government, and key opinion leaders within and outside the country need to emulate the FMN model of localizing sustainability within this supply chain.
WEST AFRICA TRADE & INVESTMENT HUB (WATIH) AWARDS A GRANT OF OVER N3 BILLION TO FMN - GOLDEN AGRI INPUTS LTD. (GAIL)
The Group's Subsidiary, Golden Agri–Inputs Limited (GAIL), secured over N3 billion in agricultural investment grants from West Africa and Investment Hub (WATIH) Activity funded by the USAID under the 2nd round of the Promotion of Catalytic Business Concept program.
Below are the key program objectives:
Engage 10,000 smallholder farmers in an outgrower program to cultivate 10,000ha and generate 22,500MT of maize and 12,500MT of soybean.
Provide improved agronomic training, extension support, and input loans to 10,000 smallholder farmers to increase productivity of maize (2.5MT/Ha to 4.5MT/Ha) and soybean (0.8MT/Ha to 2.5MT/Ha) and minimize post-harvest losses.
Create 151 new jobs
Program Key Touchpoint
Project 'Yalwa Abundance'
Project Beneficiaries
Planned number of direct beneficiaries: 10,000
Planned number of indirect beneficiaries: 60,229 I. Direct Beneficiaries: GAIL will engage 10,000 maize and soybean farmers as direct beneficiaries. a. 3,000 female farmers. (30% youth farmers), 7,000 male farmers (30% youth farmers)
Focus States:
Benue, Kaduna, Kebbi and Niger
Spanning over 23 LGAs
Project Update
The Group Has trained field agronomics in all selected states, seeds have been distributed to farmers, and planting season is currently ongoing. WATIH has also released funds to the Group as they duly ascertained project succession and progress.